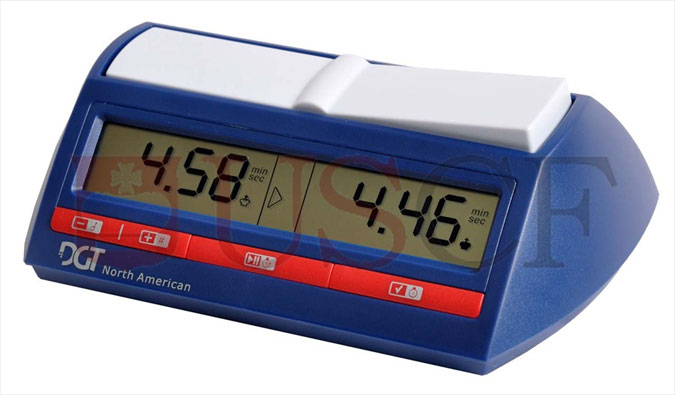 DGT North American Digital Chess Clock
Whole Description
Model Name: CLKDNA
The new DGT North American is a state-of-the-art digital chess clock at an incredible price. It is made by DGT Projects, one of the premier chess clock companies. It features 10 pre-set time controls, making it an ideal clock for both the serious player and the casual player. It presents a revolutionary new Quick-set option that makes configuring the clock quick and easy.
Multi period delay settings can be set up quickly, no need to study a user manual or memorize button combinations. The DGT North American offers time, time + guillotine, 2 X + guillotine, time + repeating time, bonus (Fischer) options, time + bonus, 2 X time + bonus, bonus single period, bonus tournament.
Large, easy to read LCD Screen 7.5″ long x 2.0″ high x 4.0″ deep
Large tumbler shows who's move from up to 60 feet away
Quick and easy to set and program
Set any control manually, fast
Ability to turn move counter on and off
Super easy to correct both time and move count
Sound alert option warns of time trouble
Low Battery Warning, No more unexpected interruptions!
16 contrast settings adjust for any lighting
2-year warranty against manufacturing defects