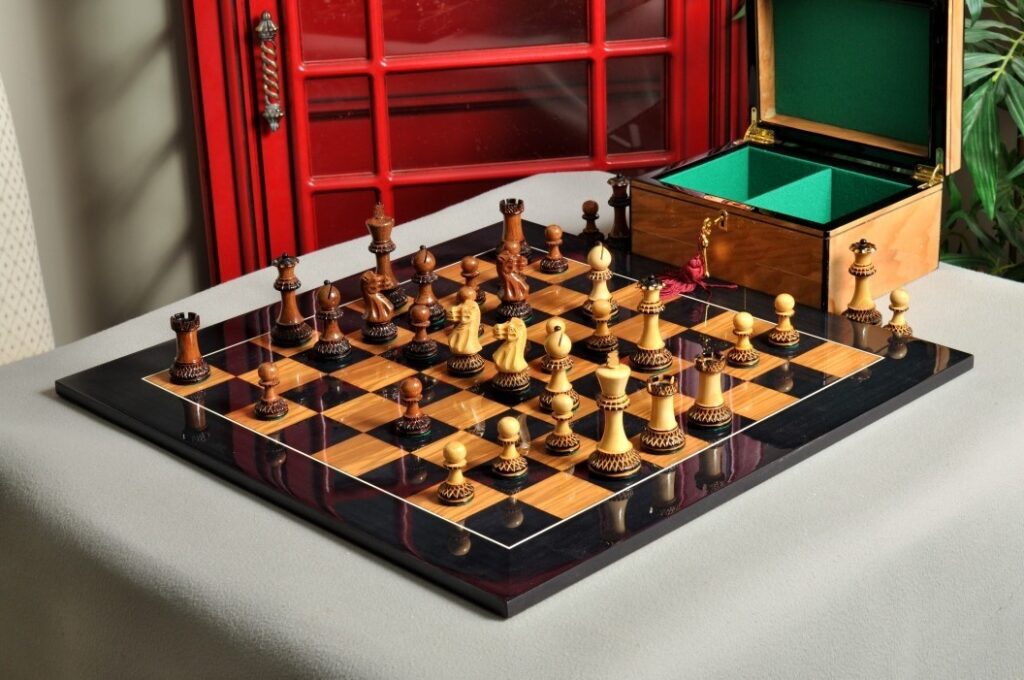 Burnt Golden Rosewood Grandmaster Pieces, Board and Box
Whole Description
Model Name:BRGRCOMBO
THE CHESSMEN:
Staunton is proud to offer the Burnt Golden Rosewood Grandmaster Series Chess set. It features a 4.0″ King with a 1.625″ diameter base. The Chess pieces are hand carved by master artisans and crafted out of high grade woods. The Chess pieces are heavily weighted with beautiful billiard cloth base pads and finish. The Burnt Grandmaster Series Chess, both the dark army and light army are crafted out of Boxwood. These Chessmen have been designed for those players looking for exceptionally well-crafted wooden Chessmen at a very reasonable price. Designed by the Maestro, it is without a doubt the most attractive yet durable set available on the market at this price point.
As with all Chess sets, the Burnt Grandmaster Series Chessmen exemplifies a perfect combination of distinct beauty and functionality. The Chessmen have been designed to withstand the rigors of practical play while maintaining an elegance which has become the hallmark of a Staunton chess set.
The Chessmen are new and each set consists of 34 Chessmen, including four Queens, a standard that was introduced by Staunton in 1993..
THE CHESSBOARD:
Crafted in Spain, the Staunton Standard Traditional Blackwood / Olive Wood Wooden Chessboard – Gloss Finish features Blackwood (dark) and Olive Wood (light) squares with a Blackwood frame. This veneered Chessboard is 0.5" thick and has a gloss finish.
THE CHESSBOX:
The Premium Chess Box is lined in green billiard cloth, divided and features brass quadrant hinges and a lock & key. This box comes with the of Staunton logo laser engraved on the lid.
King Height: 4.0″
King Base: 1.625″
Square Size: 2.25″
Board Size: 22.50″ x 22.50″
Extra Queens: Yes